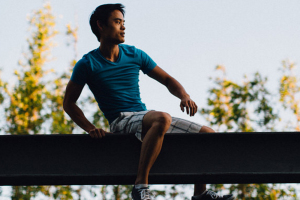 Our latest Haikus with Hotties poet is the Taiwanese American piano prodigy turned American Ninja Warrior competitor Yen Chen. He's part of an esteemed group of athletes on the hit NBC obstacle course competition show, based on the Japanese sports entertainment television special Sasuke.
Chen first heard about Sasuke when an English-dubbed version of the show called Ninja Warrior was being broadcast in the U.S. on the now-defunct G4 channel. Producers announced they were making an American spin-off in 2009. An audition tape Chen filmed, where he made light of Asian American male stereotypes, went viral, and as a result, he got a shot at the course.
Though he didn't have an athletic background, he had previously taken up rock climbing to conquer his fear of heights, and his resulting grip strength now serves him well in difficult obstacles, including the Salmon Ladder, Giant Cycle and the Doorknob Arch. In 2014, Chen was one of only 18 finalists to make it to Stage 2 of the Las Vegas Finals at Mount Midoriyama — an impressive feat considering only 90 competitors from the multiple-city national tryouts made it to Vegas, and only two athletes made it to Stage 3, where they both fell. [Update: during 2015's seventh season, a couple athletes finally made it through.]
So what does it take to tackle Mount Midoriyama while maintaining ultimate hotness? We seek answers through the ancient art of haiku.
Ninja warriors
like you need badass nicknames
starting with "The." Right?
Yen:
A moniker, aye
Would be cool if I had one
But alas, I don't 🙁
Warped wall. Spinning bridge.
Salmon ladder — which required
musical talent?
Yen:
My ear shattering
A capella just before
I hit the water.
Hotter ninja look:
Cliffhanger's bulging biceps,
ripped shirt at buzzer?
Yen:
This question you ask
Should be a question I ask
And you to answer
This article as originally published in the Winter 14-15 issue of Audrey Magazine.
Photos by Craig Stubing, Unwrittenfilms.com