Part sincere appreciation and part tongue-in-cheek spoof, Haikus With Hotties is a series that celebrates Asian male hotness in all forms.
About
Haikus With Hotties is a calendar series that highlights the attractive and talented Asian men in media that often don't get as much attention as they deserve.
---
History
Part sincere appreciation and part tongue-in-cheek spoof, Haikus With Hotties is a series that celebrates Asian male hotness in all forms. After the series launched in 2013 with Godfrey Gao, "Haikus With Hotties" released its first calendar in 2016 after a successful Kickstarter campaign featuring Yoshi and Peter Sudarso. 2017 brought a second calendar with a new twist: "From the makers of Haikus With Hotties now comes Haikus *On* Hotties." And in 2018, the fans were invited to participate in the fun and write Haikus *For* Hotties. Now for 2019, we return to the basics for our 4th annual hot Asian man calendar: Haikus With Hotties. What started out as a joke has become a nice excuse to feature a variety of Asian-hyphenated men doing interesting things in the media. For more information, visit www.haikuswithhotties.com.

– 2013 Series Launch
– 2016 Haikus With Hotties (1st Calendar)
– 2017 Haikus On Hotties (2nd Calendar)
– 2018 Haikus For Hotties (3rd Calendar)
– 2019 Haikus For Hotties (4th Calendar)
---
Assets
Haikus With Hotties Logo (Download 5KB)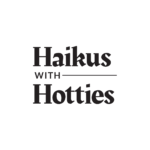 2019 Calendar (Download .zip 18.6MB)
Previous Calendars (Download .zip 2.5MB)
---
Who
Ada Tseng | Creator
When Ada was a little girl, she dreamed of being a journalist that would have all her writing overshadowed by hot photos of shirtless Asian American men. As an adult, she has seen considerable empirical evidence on Twitter—from fire emojis to OMG reaction gifs—that shows that these Haiku Hotties do make the world a happier place.
Mai Nguyen | Co-Producer
When Ada first shared her idea for Haikus With Hotties in 2013, Mai knew it would be amazing. Mai helped with promoting the calendar when it first debuted in 2016 and joined as a co-producer in 2017. Sharing hot Asian men with the world is one of her greatest life purposes, so she's not sure how she lived up until 2016.
Amanda Lui | Designer
When Mai asked Amanda to join her on a "fun project," Amanda took a leap of faith and accepted her proposition. Amanda was tasked with designing the calendars and the Haikus With Hotties website, which comes with the privilege of having to look at photos of hot Asian men for countless hours. She hopes that you too, can enjoy this luxury.
Elizabeth Lui | Marketing
When Amanda first showed Elizabeth her technique for writing haikus on the abs of hotties for Haikus on Hotties, "Liz" was impressed with the calendar's creative direction. Liz has the task of marketing the calendar, and educating the Instagram community on the hotties career success and gym time.
Yoshi and Peter Sudarso | Haikus With Hotties Ambassadors
Let's be honest: Yoshi and Peter Sudarso first got the attention of the Haikus With Hotties team because 1) they look like that, 2) they take a lot of shirtless selfies, and 3) Ada was looking for someone who would take a really hot photo while emerging out of the ocean wearing floaties for our very first Kickstarter. Since then, we've come to appreciate that their talents go much deeper than their outside beauty (they act, they do their own stunts, and they're the most generous, good-hearted, fun-loving guys you'll ever meet) and we've deemed them our Haikus WIth Hotties ambassadors—basically as an excuse to gift the public with another hot and silly brotherly photo for another year.
---
Links