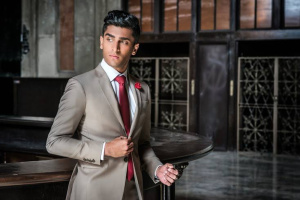 Saksham Ghai is a model and actor who recently won the 2015 Mr. India Galaxy pageant in Los Angeles. Not only did he win, but he was given additional awards for Most Photogenic Face and the People's Choice Award. It was the first time in the pageant's 23-year history that a contestant took home 3 awards.
The up-and-comer has walked the runway for multiple Fashion Weeks, and he says he rarely sees other South Asian American male models. He himself debated going into a field like business, before some girls he met in high school suggested that he should model. Once he started booking gigs, he never looked back.
He recently acted in the short comedy film Indian Caste System, and next summer, he's headed to Romania to shoot his first Bollywood feature film, starring Naseeruddin Shah and Shabana Azmi.
But what will really make your heart melt is a video on his website where Ghai talks about the sacrifices his father made for his family — and why he recently decided to take the earnings he made modeling and surprise his dad with a brand new car for his birthday.
Respect for your hard-working parents? Hot.
What's it like to be
The year's hottest man in the
Entire galaxy?
Saksham:
As being a normal guy.
It is just the same
Not a difference.
You also won Most
Photogenic Face. Is that
A skill or good genes?
Saksham:
It's definitely
Good genes. All the credit goes
To my family.
What is the coolest
Thing you've worn while walking the
Fashion Week runway?
Saksham:
I most loved wearing
A classic golden blazer –
UK designer
Top Photo: Rob Timko Photography
Main Photo (Blue Suit): Sean Franzen