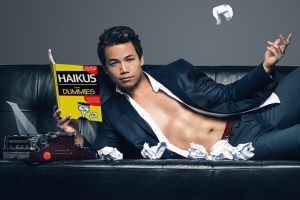 Who's that hottie on the cover of our calendar? It's Shannon Kook, the South African-born, Canada-raised hottie Shannon Kook, which you may recognize from the popular television series, Degrassi: The Next Generation. From 2010-11, he played Zane Park, the cute, openly gay jock with the wild, spiky hair.
The way he made viewers feel can only be properly expressed through a fan video:
He also plays Drew in the hit supernatural thriller The Conjuring, directed by James Wan, Trey in Dark Places, and Theo on the web series Carmilla. He's currently shooting The Conjuring 2: The Enfield Poltergeist, scheduled for a Summer 2016 release.
What's it like to be
The very first Haikus with
Hotties cover boy?
Shannon:
If you can guess what
I'm thinking on that cover –
That would sum it up.
Is it offensive
To stare a little too long
At your six-pack abs?
Shannon:
I'm sprawled across a chaise lounge –
Stare till it feels wrong.
"Wrong" is our theme song.
What did you learn from
Your research? Does sex appeal
Affect poetry?
Shannon:
Your beauty lies not
In the reflection of eyes
But the voice inside.
Photo by Lane Dorsey
For more info, check out his interview with Audrey Magazine online!