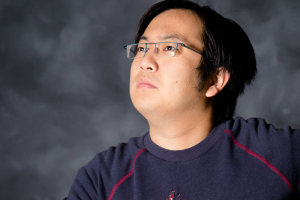 After last issue's inaugural haiku exchange with our ultimate Smoking Hot Asian Guy (SHAG) Godfrey Gao, who could possibly follow but über-popular YouTube star, filmmaker and former competitive gamer Freddie Wong, otherwise known as FreddieW?
Known for his slick, gun-toting, VFX-heavy, Michael Bay-inspired action-comedy videos that have garnered more than 1 billion views on his three YouTube channels (RocketJump alone has 7.6 million subscribers), Wong shows us you don't need to be an international supermodel to seduce us with gravity-defying poetry.
O Freddie, Freddie!
Wherefore doth thou beguile my eyes
with hot cat ties?
Freddie:
Before I answer
I must commend your usage
Of the word wherefore.
Do ladies prefer
sultry action stunts or smooth
Guitar Hero skillz?
Freddie:
The women, I've found,
are impressed by neither guns
nor plastic guitars.
After surviving
make-believe bullets, best fix
hair first? Or glasses?
Freddie:
When the myopic
Hand's been dealt, one should always
Secure clear vision.

This article was first published in the Winter 2013-4 issue of Audrey Magazine. Check it out for more fun photo outtakes.
Photos: Craig Stubing, Unwrittenfilms.com