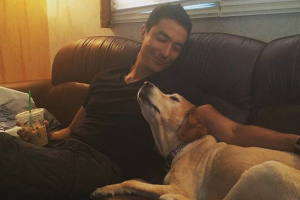 For those of you who appreciate hot Asian men, Daniel Henney needs no introduction. When he debuted in the Korean drama My Lovely Sam Soon in 2005, he became an instant star. Since then, he's acted in films such as My Father, X-Men Origins: Wolverine, Shanghai Calling, and Big Hero 6. In 2016, he can be seen in the American television show Criminal Minds: Beyond Borders.
But let's talk about Mango.
Mango is a golden retriever that often steals the spotlight from her famous owner, even when he is wearing white polo shirts that showcase his "luxury brand body," like the Korean websites like to say.
She has modeled for Elle Korea:
and GQ Korea:
And she was both fashionable and supportive when Daniel dumped ice water on himself for charity in 2014.
If you want to see more photos of Mango (with Daniel), check out Henney's Instagram.
If you'd rather see more photos of Daniel, check out this recent "Oh No They Didn't" blog post titled "Daniel Henney looking all kinds of fine for Arena Magazine."
Mango and Daniel pen deeply personal haikus below, in the most romantic of all the 2016 Haikus with Hotties Calendar exchanges.
Mango:
My dearest Daniel
Do you recall how we first
Met and fell in love?
Daniel:
Winter in Seoul years ago . . .
This girl needs a home
Then our life began.
Mango:
You weren't yet a star
What did I teach you about
Acting and hotness?
Daniel:
Act like you don't care
Hotness comes second to food
Eyes down, nose up, food.
Mango:
Will you thank me when
You win an Oscar playing
A sad, ugly man?
Daniel:
On the walks we take,
I find my inspiration.
Thank you, my sweet girl.