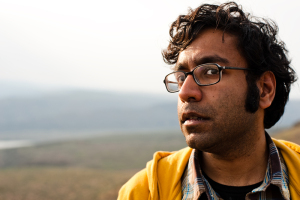 You may remember him from Totally Biased with W. Kamau Bell, where he discussed important topics such as spelling bees and Indian Americans on TV on a segment called The KondaBulletin with Hari Kondabolu.
His album Waiting for 2042, which hit number one on the iTunes comedy album chart, is a must-listen, and he's been on The Late Show with David Letterman and Conan.
He has a Masters in Human Rights from the London School of Economics.
And if you can't wait for more Hari Kondabolu, he's currently working on a new album which will be released in 2016, and he will be touring soon if you want to watch him perform live. Check out his website for updated info. Or follow him on Twitter, where he tweets like 10 jokes a minute. It's insanity.
Speaking of Twitter, he once posted a photo with the caption: "I was at my peak hotness in 2009. RIP PEAK HOTNESS." Not true, Hari Kondabolu. You're hotter than ever before.
Did you start stand-up
To show the world you're more than
Just a sexy rogue?
Hari:
Or does laughter turn
You on. Because laughter turns
Me on hahaha.
Your luscious long locks
Silky, smooth, envied by all.
Trick to soft tresses?
Hari:
Coconut oil, yes
You smell like a macaroon
Sexy macaroon.
What turns you on more?
Clever Twitter digs, jokes with
Subversive punchlines?
Hari:
Or deconstruction?
Deconstruct my body. Start
With my Che T-shirt.
Photo by Katy Porter