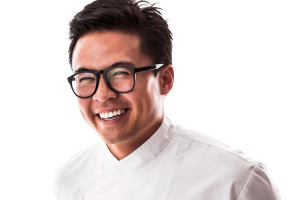 Who doesn't love a hottie who can prepare you a delicious meal? Easy on the eyes and easy on the stomach.
Pham, the winner of 2011 Food & Wine Magazine's Best New Chef and three-time James Beard Foundation semifinalist, is the owner of the restaurant Forage in Salt Lake City and will soon launch a new restaurant ember + ash. Random trivia: he's also the consulting chef at Beer Bar, a Salt Lake City bar co-owned by Modern Family's Ty Burrell, who remembers eating at Forage and called it one of the best meals he'd ever had.
Pham is also a Food Network regular, making appearances on Food Network Star and Extreme Chef. But he might be best known for defeating Bobby Flay on the cooking competition Iron Chef America: Battle Ground Meat. Pham prepared created dishes such as soft-scrambled egg with sausage served inside an egg shell; lamb sausage and a riff on beef borscht; prawns and halibut soaked in hamburger-infused whey; and the surprisingly tasty beef fat ice cream with cherries — just try not to drool thinking about it.
As a master chef,
Tell us the ingredients
That make a hot man.
Viet:
One part passion, one
Part finesse, great sneaker game,
And must add fish sauce!
Hotter: Iron Chef
Win, or your own reflection
In the frying pan?
Viet:
Iron Chef, because
My proud parents were watching
From the stadium.
What would you cook if
Taking on the ultimate
Seduction challenge?
Viet:
Catch fish and rabbit
Roast over fire I make with
Wood I chop myself.
Photo by Cedric Angeles