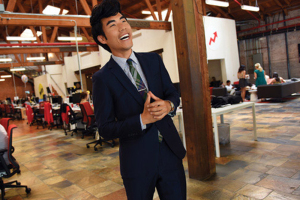 Though he may most be known for his hotness, Eugene Lee Yang is an actor and producer for Buzzfeed videos. He is part of The Try Guys, who (like the title implies) try everything. Favorite examples: "The Try Guys Try Labor Pain Simulation," "The Try Guys Try Magic Mike Stripping," and "The Try Guys Try Drag for the First Time."
He makes videos that make Asian Americans laugh and cry. like "Asian Moms and Their Kids Imitate Each Other" and "If Asians Said The Stuff White People Say."
And he's also done numerous videos introducing American Buzzfeed readers to K-pop, so for his Haikus with Hotties calendar photo shoot, we decided to transform him into a entire K-pop band. Because what's better than Eugene Lee Yang? 5 Eugene Lee Yangs. All singing and dancing their hearts out.
A collaboration with Buzzfeed Video (with style by Sarah Kinsumba, hair/wigs by Karen Park, and makeup by Jessica Chu), the music video can be seen below: "1 Man Transformed Into A K-Pop Group."
A full explanation of K-pop archetypes + access to before/after transformations + gifs can be found in the Buzzfeed post.
If Eugene is cloned
To create a K-pop band,
What's each member like?
Ko-gi (Visual):
"What's your greatest fear?"
Eugene replied, "More of me."
So we tortured him.
Du-bu (Maknae):
Which member would you
Netflix and chill with – Eugene
Said, "Ew none gross blegh!"
Kim-chi (Leader):
People sometimes claim
K-pop members look alike –
This isn't helping.
Bop (Rapper):
Eugene's mom saw this
And said, "Too skinny, weird hair,
Why you wear makeup?"
Jji-gae (Dancer):
Wanna play a game?
Which Eugene's the evil twin?
Answer: all of them.
K-pop Photo by Craig Stubing, Unwrittenfilms.com.
Top Photo by Macey J. Foronda
Eugene Lee Yang K-pop fashion credits:
Main Vocalist
1st Look – Music video
Blazer GGIO 2 www.ggio2.com
Tank top LE BEAU www.lebeau.co
Skinny Jeans JOE'S JEANS www.joesjeans.com
Earring ZELLE COUTURE www.zellhaus.com
Shoes COLE HAAN at OFF BROADWAY SHOES www.offbroadwayshoes.com
2nd Look – Video white background
Blazer GV www.gvclothingco.com
Shirt AKA CLOTHING www.thisaka.com
Skinny Jeans JOE'S JEANS www.joesjeans.com
Shoes COLE HAAN AT OFF BROADWAY SHOES www.offbroadwayshoes.com
Maknae
1st Look – Music video
Sweater AZUL BY MOUSSY www.azul-by-moussy.com
Shirt AKA CLOTHING www.thisaka.com
Skinny Jeans JOE'S JEANS www.joesjeans.com
Shoes SCHOLL at OFF BROADWAY SHOES www.offbroadwayshoes.com
2nd Look – Video white background
Sweater off white AZUL BY MOUSSY www.azul-by-moussy.com
Shirt AKA CLOTHING www.thisaka.com
Skinny Jeans JOE'S JEANS www.joesjeans.com
Shoes SCHOLL at OFF BROADWAY SHOES www.offbroadwayshoes.com
B-boy Dancer
1st Look – Music video
Sleeveless top MATIERE www.matiere.com
Chains Stylist's own
Cap LEEF PARIS www.leef-paris.com/en/
Skinny Jeans JOE'S JEANS www.joesjeans.com
Shoes OFF BROADWAY SHOES www.offbroadwayshoes.com
2nd Look – Video white background
Tank top A.THING.THING. www.thingthing.co.nz
Skinny Jeans JOE'S JEANS www.joesjeans.com
Shoes OFF BROADWAY SHOES www.offbroadwayshoes.com
Visual
1st Look – Music video
Leather Jacket COCKPIT
Shirt AKA CLOTHING www.thisaka.com
Skinny Jeans JOE'S JEANS www.joesjeans.com
Shoes JEFFREY TYLER at OFF BROADWAY SHOES www.offbroadwayshoes.com
2nd Look – Video white background
Bomber jacket AZUL BY MOUSSY
Shirt KENNINGTON
Skinny Jeans JOE'S JEANS www.joesjeans.com
Shoes JEFFREY TYLER at OFF BROADWAY SHOES www.offbroadwayshoes.com
High fashion Dancer
1st Look – Music video
Coat A THING THING www.thingthing.co.nz
Faux Fur Stylist's own
Printed Shirt AKA CLOTHING www.thisaka.com
Skinny Jeans JOE'S JEANS www.joesjeans.com
Shoes JEFFREY TYLER at OFF BROADWAY SHOES www.offbroadwayshoes.com
Hat ASOS www.asos.com
2nd Look – Video white background
Coat CONTROL SECTOR www.control-sector.myshopify.com
Shirt AKA CLOTHING www.thisaka.com
Skinny Jeans JOE'S JEANS www.joesjeans.com
Shoes JEFFREY TYLER at OFF BROADWAY SHOES www.offbroadwayshoes.com
Hat ASOS www.asos.com