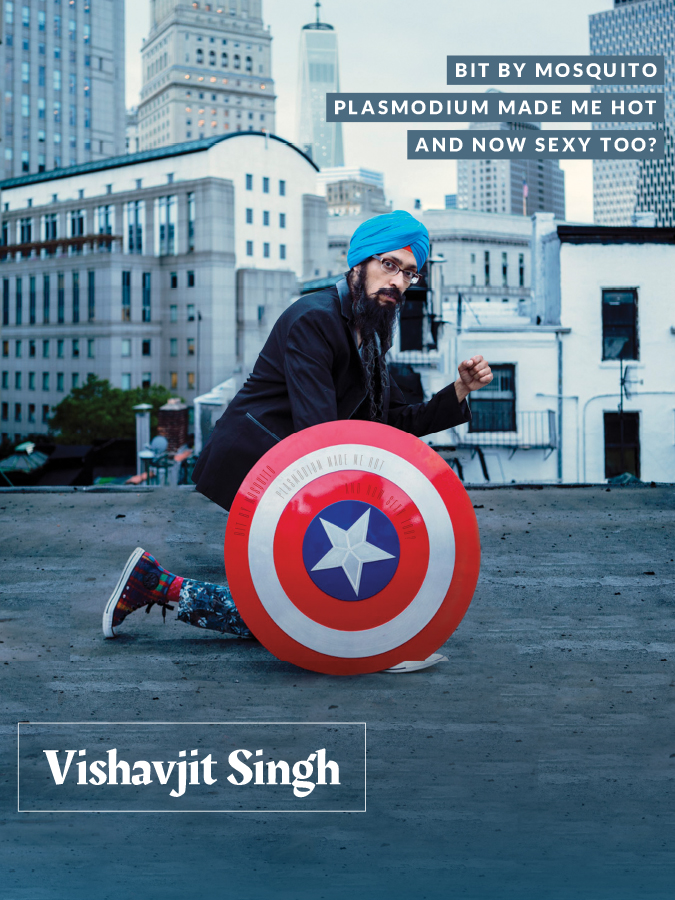 Who: Vishavjit Singh
Month: September 2017
Hottie Bio: Vishavjit Singh may smolder as his alter ego Captain Sikh America, inspiring ordinary citizens to fight intolerance with compassion, but his "Clark Kent" is just as magnetic: he's the handsome cartoonist behind the popular comic series, Sikhtoons.
More: 
Vishavjit (Vish-va-jeet) Singh is a New York City based cartoonist, writer, performance artist and creator of www.Sikhtoons.com who was born in the nation's capital. He began cartooning during the hate/bias crime-wave following the tragedy of the 9/11 attacks. In the midst of being targeted with fear and intolerance from fellow Americans, Vishavjit armed with turban, beard and humor creates art to build bridges connecting not just with those who empathize with his plight, but also those who judge him based on his countenance & perceived immigrant roots. His work is guided with the deep belief in the inter-connectedness of our stories.
Vishavjit has traveled across the U.S. as a speaker, hosting pr12esentations and workshops at universities, schools, libraries, museums, and film festivals to challenge stereotypes and expound the core virtues of our nation's diversity. In order to challenge what it means to be 'American,' he has donned the uniform of quintessential American superhero, Captain America, on the streets of many American cities. He was also the subject of a widely acclaimed short film, 'Red, White & Beard,' which launched online in early 2015. He has been featured in Facebook and AdCouncil campaigns. His message and work has been covered by a number of news outlets, including the New York Times, NPR, BBC, The Atlantic Monthly, Huffington Post, The Guardian and Time Magazine.
Twitter @sikhtoons, Instagram @sikhtoons
Photo: An Rong Xu